KINGFISHER with BULLRUSHES
Height: 20 ins (approx.)
Cost: POA
KINGFISHER on curved steel
Height: 15 ins (approx.)
Cost: POA
KINGFISHER on IRIS
Height: 20 ins (approx.)
Cost: POA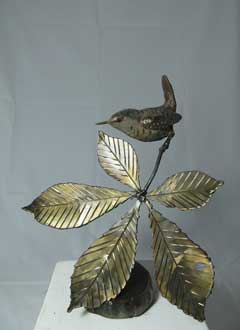 WREN on HORSE CHESTNUT
Height: 9 ins (approx.)
Cost: POA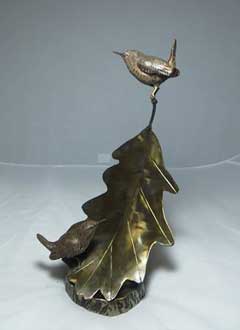 2 WRENS on OAK
Height: 12 ins (approx.)
Cost: POA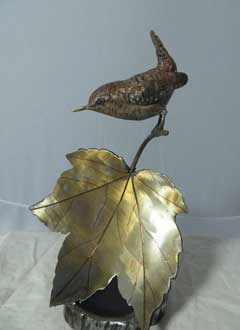 WREN on SYCAMORE
Height: 9 ins (approx.)
Cost: POA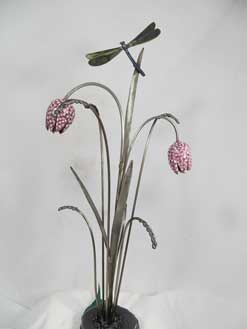 SNAKES HEAD FRITILLERY
and DAMSEL FLY
Height: 12 ins (approx.)
Cost: POA
These sculptures give you the opportunity to purchase a unique piece and also allow you to customise it if you so choose. For instance if you would prefer a wren mounted on another of the leaves or plants shown, that can be done at little extra cost. The sculptures are individually made of stainless steel and cold cast bronze with a heavy steel base and because each is a "one off" there may be slight variations in patina. They are perfect for a wedding or birthday gift when you are looking for something different, new pieces will be added when they are ready. Prices include P&P UK mainland.
Unless otherwise stated, the birds are approximately life size. They are also available mounted on thin stainless steel rods with grass seed heads approximately 150 cms long which are designed for gardens where they move gently in the breeze. These have to be sent by courier (due to the length) at an additional cost of approx £20.
Please feel free to email miranda.michels@googlemail.com  or telephone 01544 370678 / 07772 658060 to discuss your ideas and requirements, I will be happy to help you.
Please allow 14 days for delivery from the date of payment. Payments can be made via PayPal, BACS or cheque (cheques made payable to Miranda Michels).

Address:  Burnt House
                  Gladestry,
                  Radnorshire
                  HR5 3NU